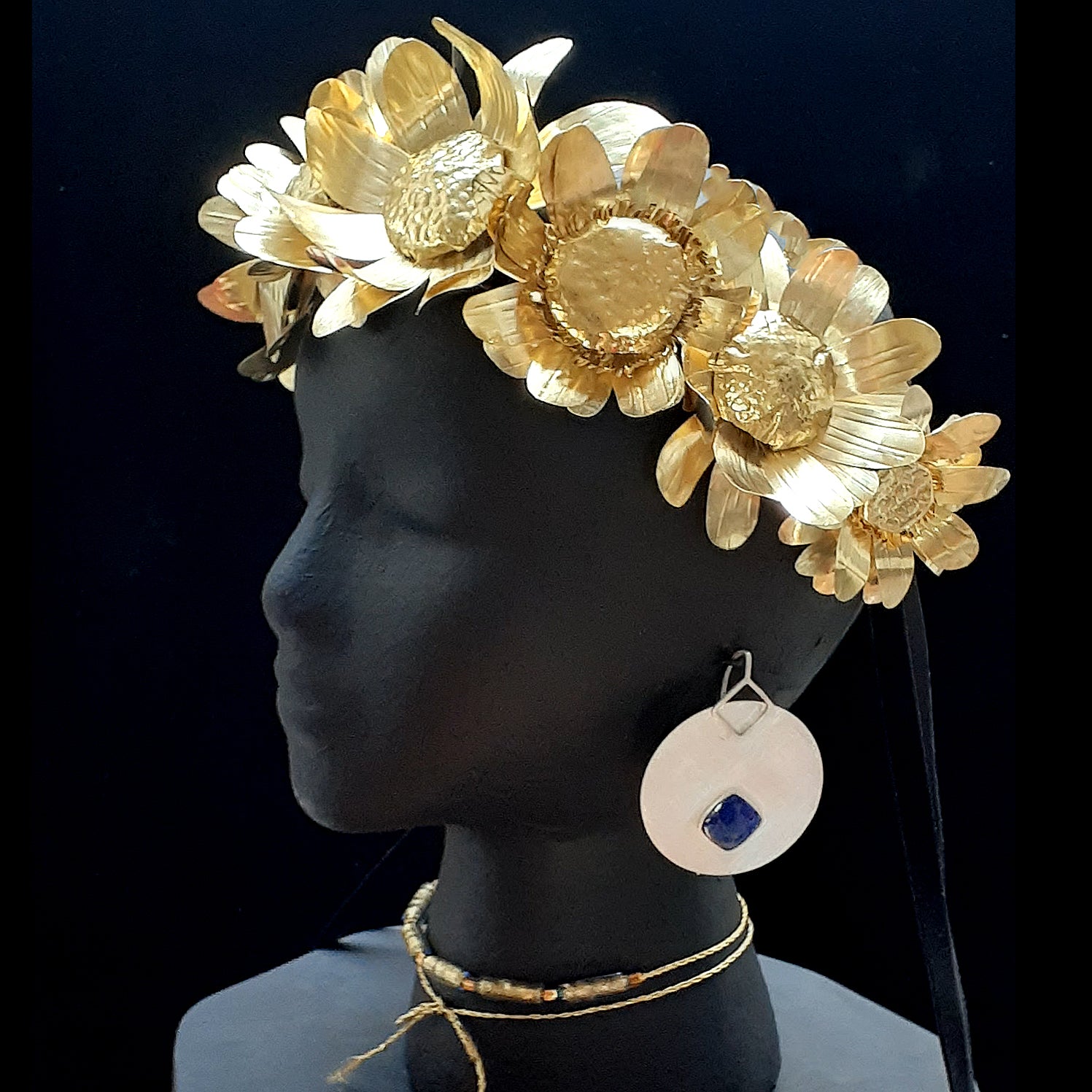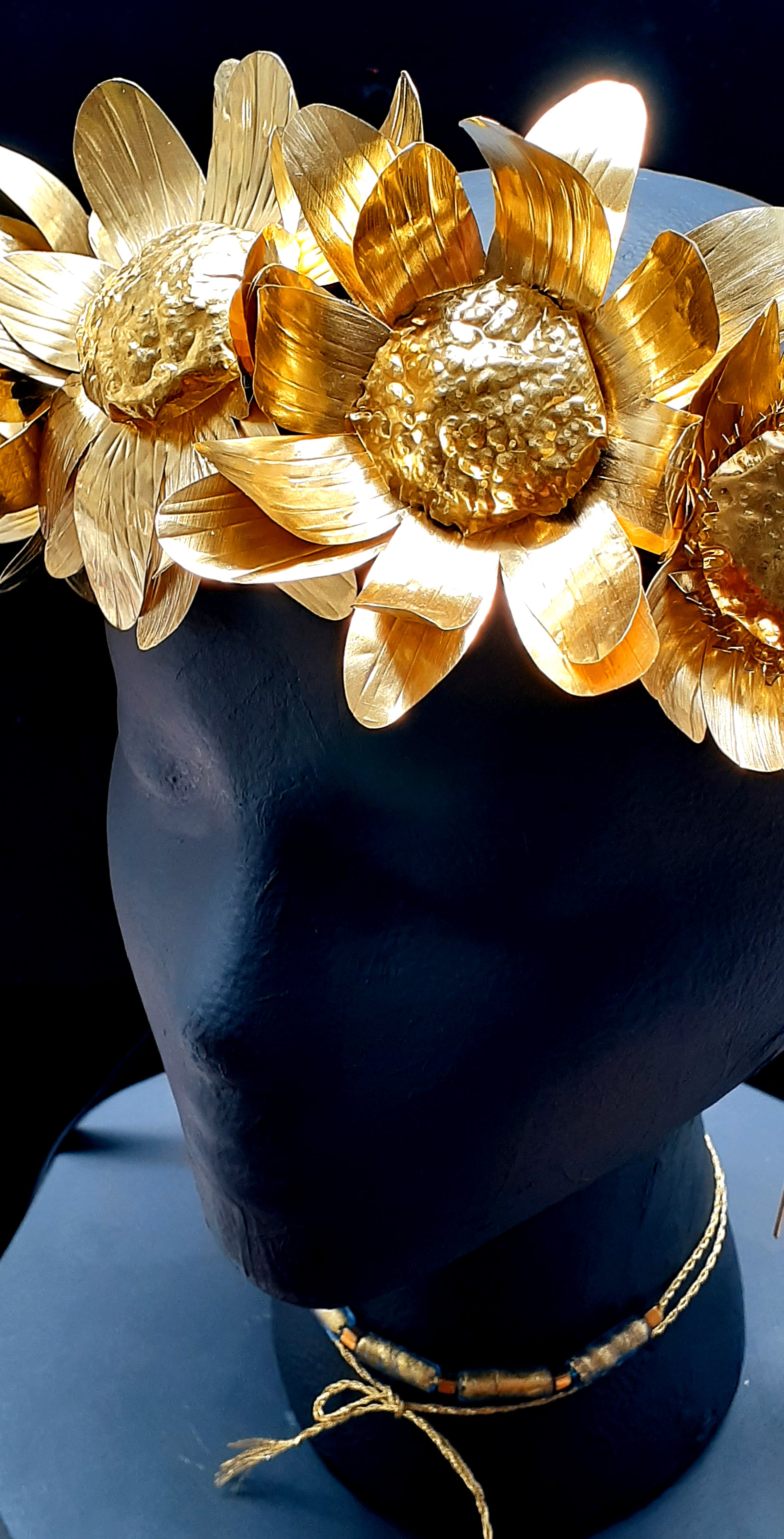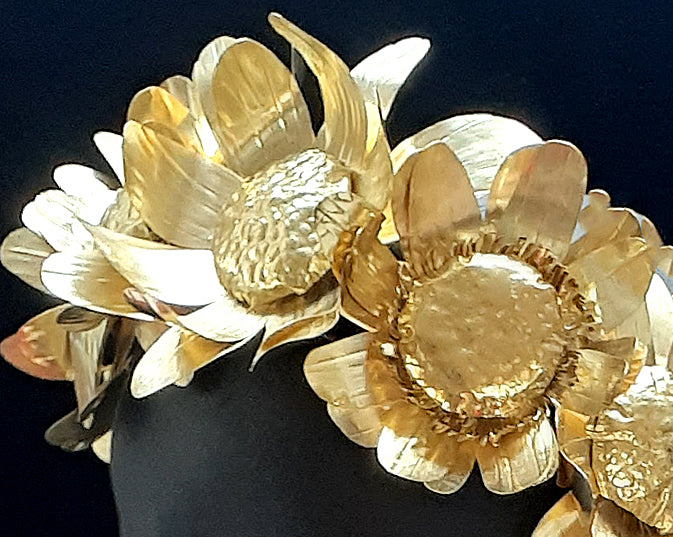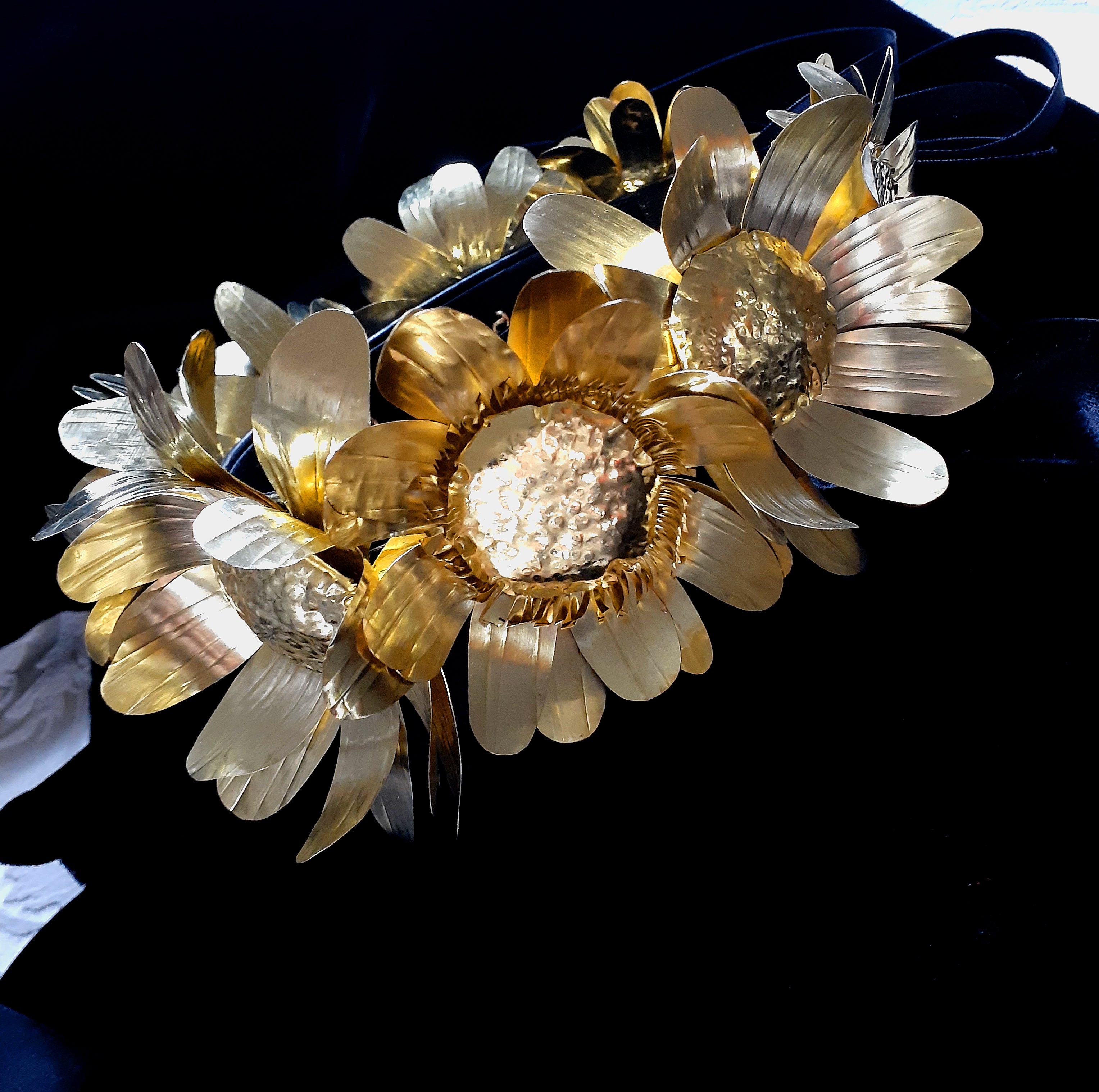 BRIDAL ENSEMBLE: SUNFLOWER CROWN - INSPIRED BY TRADITIONAL UKRAINIAN WEDDING
This exquisite wedding ensemble is inspired by the traditional Ukrainian bridal headdress. Hand crafted with love and care, it features delicate brass sunflowers, imbuing this classic design with a modern elegance. Adorn yourself with this timeless piece and ensure that your love is a celebration of beauty and tradition.
Designed and Handcrafted BRASS Wedding Flower Crown is cut from brass sheet, formed and assembled. There are two types of sunflowers in  the crown. Very light to wear! Tied with velvet ribbon in the back. If you would like to see how it was mad, my step by step process is documented on my blog HERE.
Completing the bridal ensemble - Sterling Silver and Lapis Lazuli large earrings with a custom hand-rubbed finish. and Gold + Blue vintage Venetian Glass Necklace on a braided gold thread. Beautiful vintage Venetian Glass Beads with 24K gold foil. Gold metallic cord which is adjustable. Easy and very light to wear. These lampwork beads are mainly made and designed by women in the Murano glass works.

ALL PIECES SOLD SEPARATELY:
BRASS SUNFLOWER CROWN (BUY HERE) 

:

  $850.00
Sterling Silver and Lapis Lazuli Large Earrings: $575
Vintage Venetian Glass Bead Necklace:  $200
(SOLD)
------------------------------------------------------------------------
Tradition + Protest: Reimaging Adornment as Symbols of Ukrainian Resistance
This is a tribute to the courage, strength, resilience and beauty of the Ukrainian Women.


My interpretation of a traditional wedding ensemble. This small installation is inspired by current symbols of protest (sunflowers) and the popular wearing of traditional wedding flower crown (The VINOK), ancient adornment (The Kolty) Earrings/Pendants with Venetian glass necklace (The 

Pazyorky

) 

 

- the most desirable glass accessories because hand-made beads were transported from Venice. 
These pearls are flawless with exquisite natural color lustre. Large perfectly round freshwater pearls of this size are special!
18K Gold earwire setting. 12mm Freshwater cultured pearls. Total earring length 1.25 inches.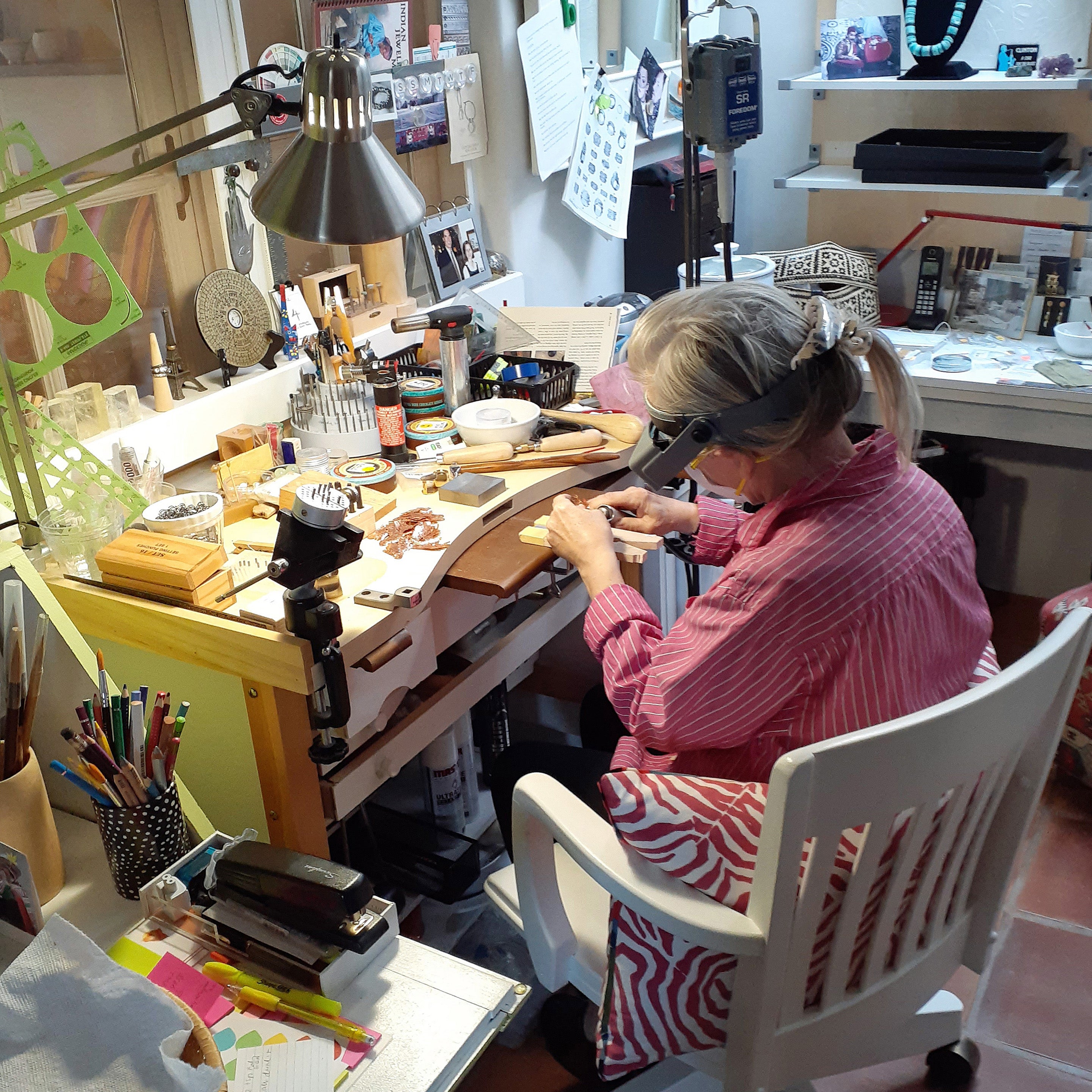 WELCOME TO MY ONLINE STORE!
I use only recycled precious metals and ethically sourced gemstones. For more information about me, my work and inspiration click the button below.
ABOUT
. . . COME VISIT MY STUDIO #28 THIS FALL during the Santa Fe Studio Tour!
Don't miss this annual free city-wide event! Over 100 artists will open their studio doors for two weekends in October. During the week there are many events to sign up for: studio talks, demonstrations and workshops.
MORE INFO HERE